I have all the intention to make my breakfast more interesting.
So, I think, very slowly, I'll go through my new little
French book on cooking eggs
.
What did I make this time? An egg en cocotte (shirred egg in English) with sweet potatoes and smoked wild alaskan salmon.
This is surely a keeper recipe. Also my little girl appreciated it! And it if the veggies are cooked the night before it is very easy to put it together in the morning.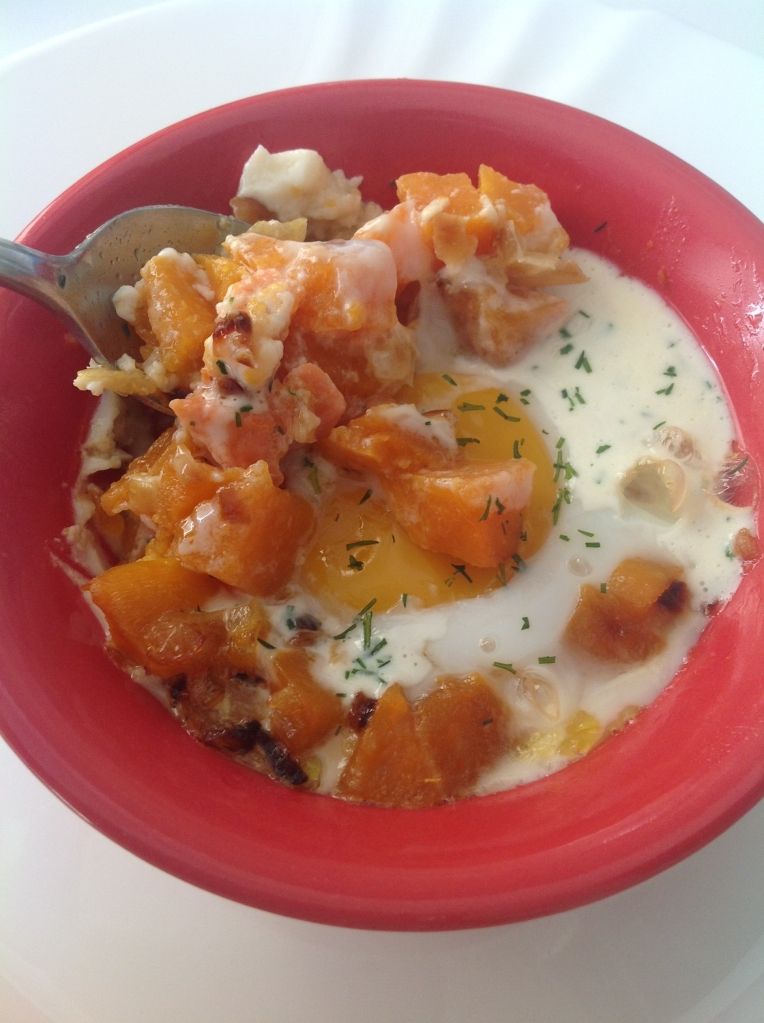 This is what I used for one portion:
one small sweet potato (64 grams after peeling) diced
2 tablespoons of minced onion
1/2 garlic clove finely minced
1 tablespoon of cream
very little chopped dill
half a slice of smoked wild salmon cut into strips
some ghee
salt and pepper
I steamed the sweet potato dices until almost tender. Meawhile I softened the onion and garlic in a litte bit of ghee on low heat and then added the sweet potato. Seasoned and finished cooking. Out of the stove I added the salmon strips.
I preheated my oven at 180 C (375 F) and buttered a ramekin. I spooned the potato in the ramekin and made a nest in the middle, carefully cracked my egg there and season lightly. I boiled a pot of water, turned off the stove, lowered the ramekin in the pot (before boiling I checked how much water I needed to go to halfway the ramekin cup) and transferred in the oven. Cooked for 12 minute, until the white was set and the yolk still runny. I heated the cream, with a pinch of salt and drizzle on the egg. Sprinkled with some chopped dill and voila', done.