Yesterday morning, I looked at my almost depleted veggie section in the fridge, pull out a zucchini and around I also found some leftover chicken. So I sauteed some zucchini diced with some EVOO at low eat for a minute or so, added the shredded chicken to warm up, good sprinkle of salt. I also had some datterini tomatoes confit that went in. And I fried one egg. a little dust of my sweet pepper powder and breakfast was ready.
In the morning, I was seeing a friend and children, so we spent all morning outside. Good that I still had one leg of duck confit, easy and delicious protein. I still had cauliflower in the fridge and I was thinking of a recipe from
Ottolenghi
. Well, I confess, that I miss Ottolenghi recipes, they are brilliant but they need to get a major adjustment if you want to make them Paleo.
This really works! It's very yummi!
Adapted from Ottolenghi, The Cookbook
Chargrilled cauliflower with tomatoes dill and capers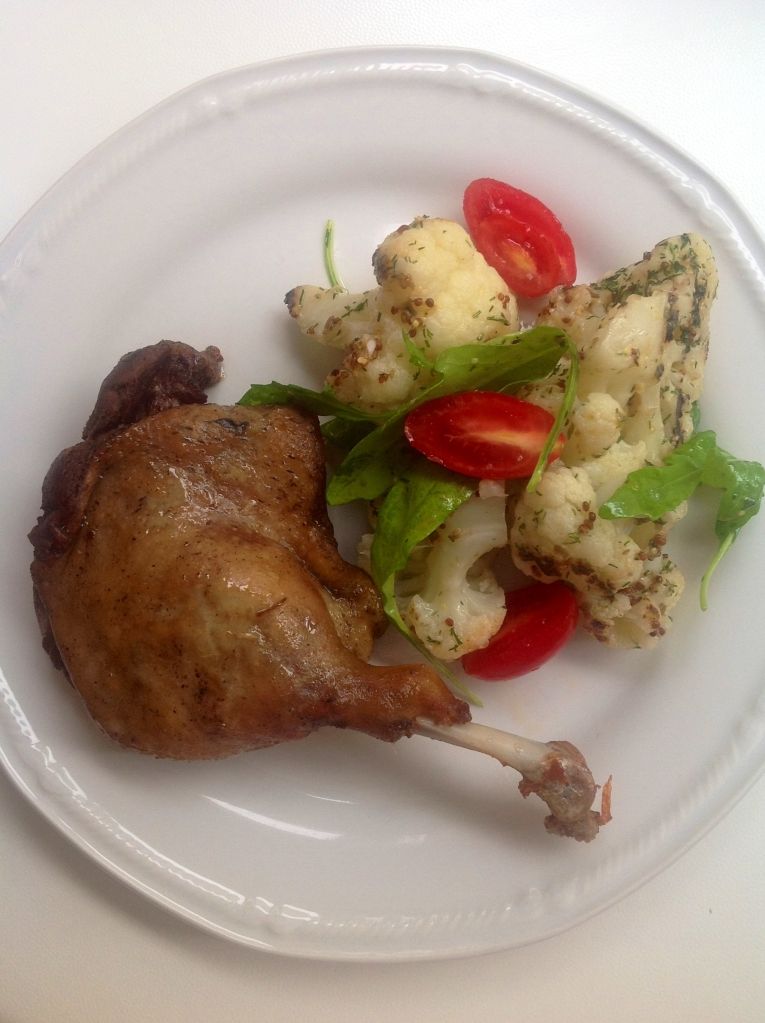 half head of a medium small cauliflower, divided into florets
1 clove of garlic minced
1 tablespoon of coarse-grained dijon mustard
1 tablespoon salted capers
1 tablespoon cider vinegar
some salt
a handful of green leaves (I used rocket)
1 tablespoon of chopped dill
some cherry tomatoes
EVOO
Blanch your cauliflower florets in a big pot of boiling salted water for a few minutes, they need to stay crunchy. Drain and dip in iced water to stop cooking. Keep in the colander to drain well. Make your dressing. In a mini mixer, or by hand, chop the garlic, then add the capers, when it's minced add mustard, vinegar and oil enough to make a creamy dressing. Adjust salt. Toss the drained cauliflower with some oil of your choice and season.
Preheat a cast iron grill pan on medium, then turn to high an quickly char the florets. While still warm mix with the dressing, with the green leaves and tomatoes, sprinkle with chopped dill.
I LOVED it!