Coniglio alla bergamasca means rabbit cooked in the style of Bergamo.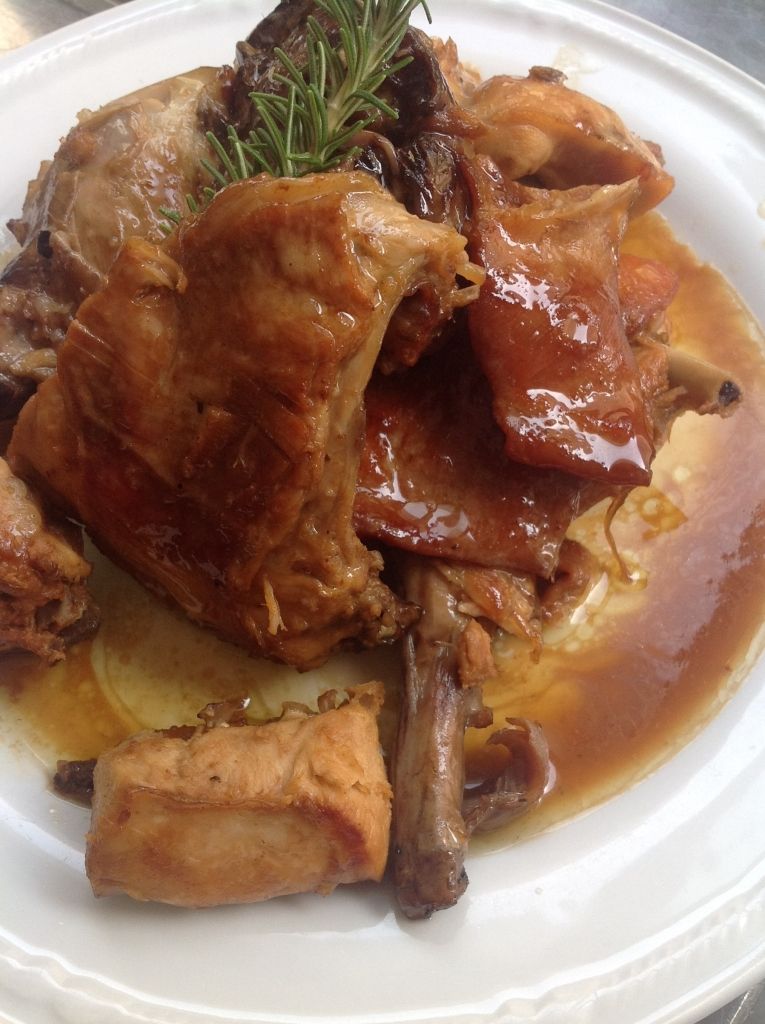 Bergamo is a town located in the Lombardy province of Italy, one hour from Milan.
It is my mother's hometown and polenta and rabbit is very traditional dish there. I grew up eating it and fighting with my sister over the head and the liver! Rabbit brain, anybody?
Rabbit is very delicate meat and we generally favor rabbit over chicken. My husband, to tell the truth, doesn't like chicken at all, for him it's meat with no personality...maybe if I buy
a poulet de Bresse
he would change his mind, but I cannot bring myself to spend 20 euros a kilo for a chicken. That means more or less 50 dollars for a chicken! But we really like chicken stock, good thing is that I can purchase carcasses and wings from my butcher.
This recipe is very, very easy and my children simply love it!
You need
1 rabbit, cut into pieces*. In the States, I remember, rabbits came with no head except maybe at Greek butchers or Asian markets. If it comes with the head, ask your butcher to split it lenghtwise so you can access the brain.
5-6 cloves
2-3 rosemary sprigs
white wine
some hot water or chicken stock
clarified butter
olive oil
salt
Usually when you cook meat you are asked to warm up your skillet and sear the meat in hot fat. For this recipe I go againist common wisdom and follow my mom and she follows her mother recipe.
You need to clean perfectly the meat from fat. My grandmother used to say that while chicken fat tastes good, it's not the case for rabbit fat. Add some olive oil to your pan, then the rabbit pieces perfectly dried, some clarified butter, cloves, rosemary, salt. Saute' on medium-high heat until all the pieces are golden brown. Add almost a glass of warm white wine and reduce it. Then you lower the heat and add a little bit of stock or warm water when necessary to keep the meat from drying out, I put the lid on with a wooden spoon between the lid and the pan. Cooking time about 50 minutes to 1 hour. Check the leg if it's tender.
Ah, the liver and the kidneys go in the pan just at the end of cooking so they stay pink and juicy.
Make sure to add a bit of liquid when needed. My mom usually stops here. I strained the liquid, didn't really had time to defat but I wanted an emulsion of sort, so I whisked in some extra virgin olive oil (you can use butter if you use it) and added rosemary at the end because I didn't have in the house when I started cooking!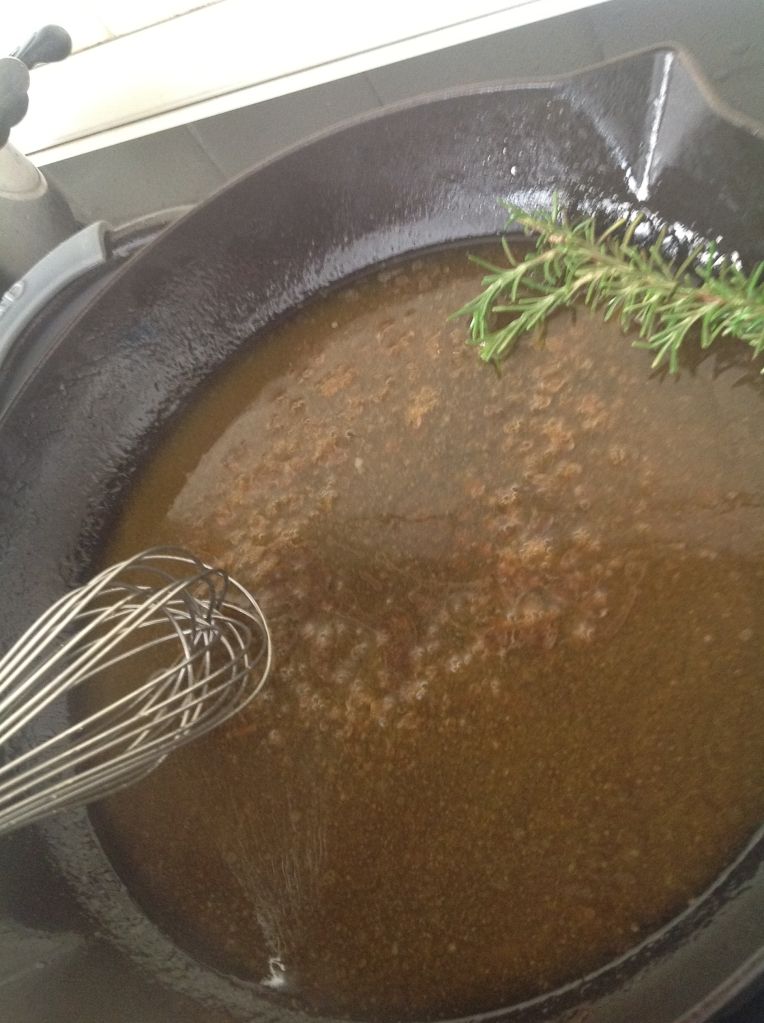 *A big rabbit is normally too much for our family and the loin could come out a little dry. So, often I debone the ribs and loin, cut into cubes and save in the freezer for a ragout or for sauteing quickly.