Oh, what a pain could be putting the children to sleep!
But here I am, to report my day of eating.
Black coffee to start. I scambled 1 egg and 1 yolk with some champignon mushrooms previously saute' in duck fat and some sprinkled parsley.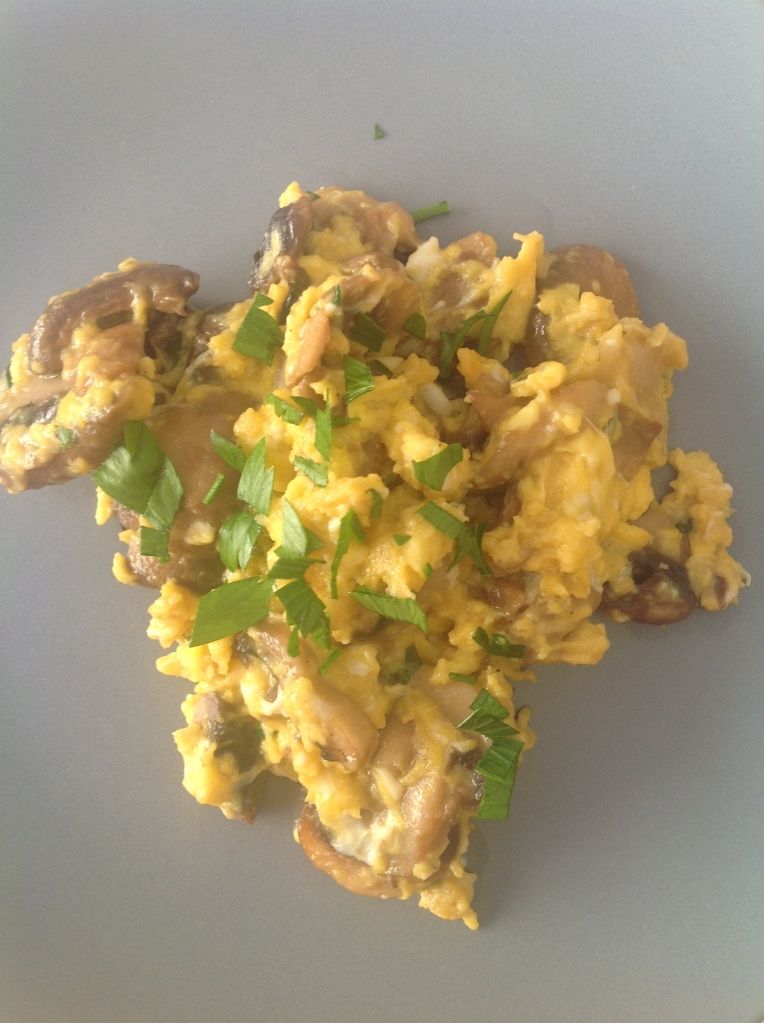 I felt a little hungry half and hour past my meal but then went out, got busy, I was fine.
Lunch was very nice. I had leftover
lamb shoulder
from Whole30 Day 3. Made a quick side dish with the pressure cooker. Artichokes hearts, some onion, a good squeeze of lemon, finished with dill and a drizzle of EVOO.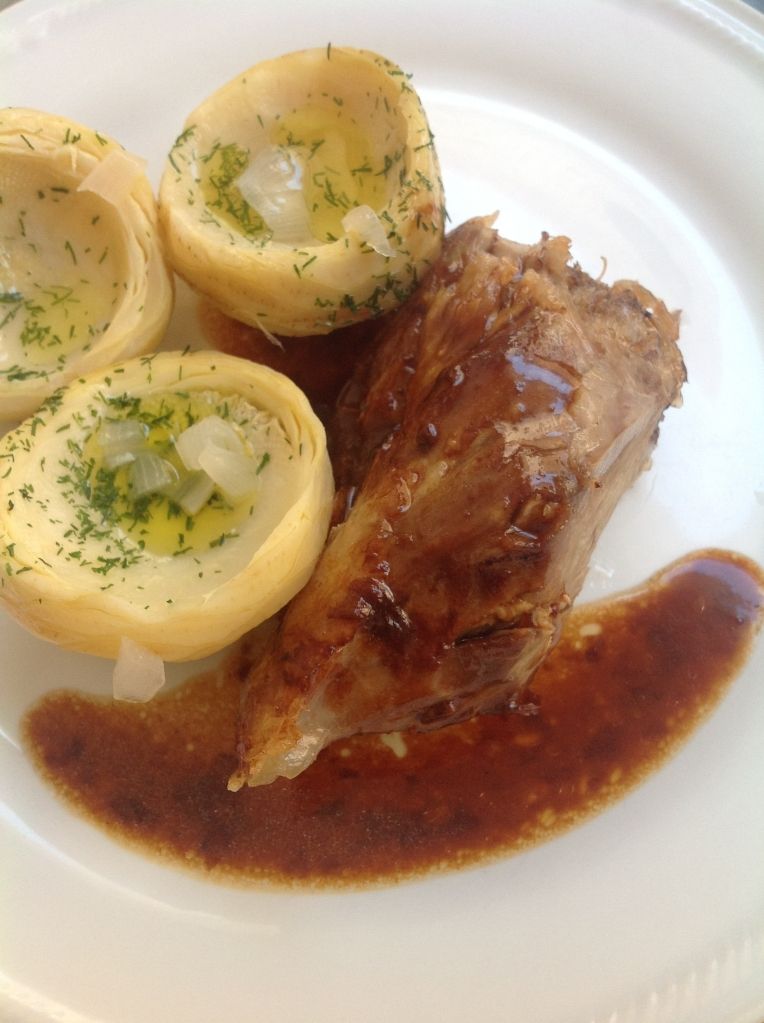 Coffee and melon.
In the afternoon I had some olives and a couple prunes.
For dinner I made one of my husband favourite dishes. Boeuf Tartare. This is such a French thing. Here at the butchers' they have two meat grinders. One is only for beef, not to be mixed with other meat, for safety reasons. People LOVE beef tartare. I think most Americans would frick out at the idea of raw meat and raw yolks. It's is delicious! To be honest, a good steak tartare should be done chopping the meat with the knife, not with ground beef, but it's a time in my life where I take shortcuts if possible...here I just ask some beef tartare at my butcher and he would ground it in front of me; in other Countries, where you are not sure how safe it is to eat raw meat, freezing your meat for some time will make it safer to consume. Ground or cut up meat need to be eaten right after, do not keep in the fridge for days!What meat? Ehm, depends on taste and how much can you afford. But you need a lean meat with no sinew for a good tartare.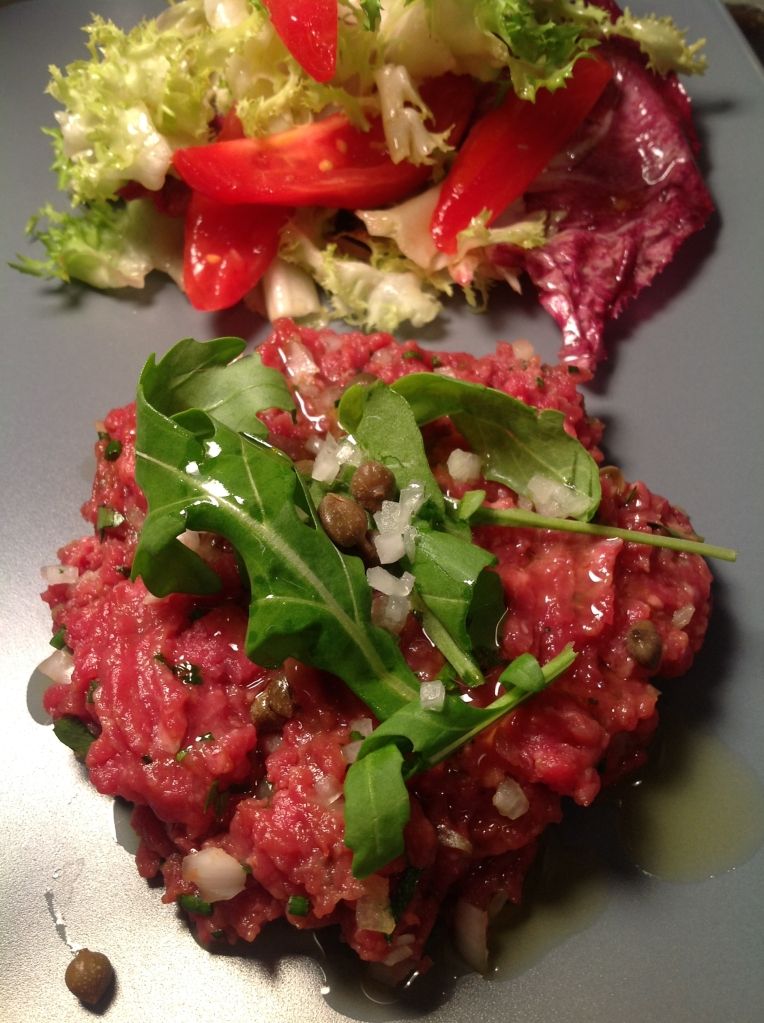 I wouldn't even call this one a recipe but more or less, that's how we like it
BOEUF TARTARE
quantities for a person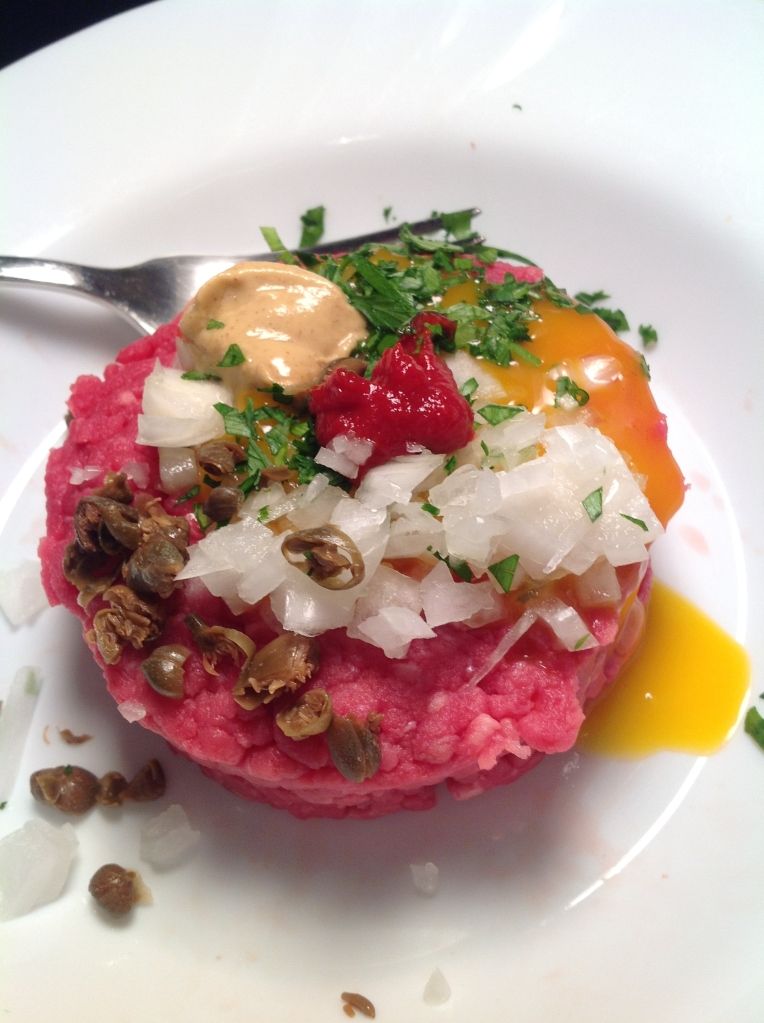 150 g good lean beef, knife cut or freshly minced
1 egg yolk
some mustard (like a teaspoon for me)
some tomato paste (a teaspon as well)
some chopped chives
some chopped parley
some chopped mild onion
chopped capers (like a teaspon for me)
salt and tabasco
Mix everything with a fork.
Taste and adjust to your liking. I normally would enjoy this with fries but here I had with a simple salad of curly endive, radicchio and rocket.
Time to sleep!